Power Quotes
Here are some randomly selected quotes from Cal's collection:
"You can't enter into the city until the city is allowed to enter into you."
"Religion hides God, revelation reveals Him."
"God allows you to use 10% of your mind. That's your tithe. When you sow it into His Kingdom, the remaining 90% is filled with His mind."
"God doesn't raise you up so that you can be seen."
"Grace is God's ability in you to cause the law to serve you. "
"Your life doesn't determine your lifestyle; your lifestyle determines your life."
"The value of prayer is purpose being fulfilled."
"You won't be needy if you have a God who needs nothing."
"God is not a believer. He is in you so that you can be a believer. "
"Is your deliverance determined by where you are or who you are?"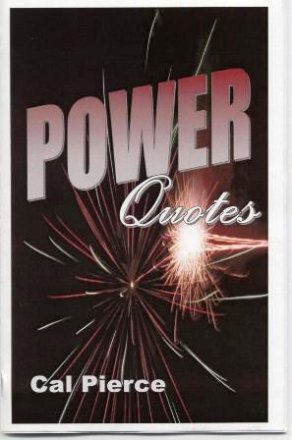 Power Quotes is a compilation of insights the Holy Spirit has dropped into Cal's spirit as he has prepared messages for conferences and while speaking at meetings throughout the world. These Power Quotes are meant to stimulate the reader into thinking about God's truth.